Jon Beavers is a writer, actor, musician and song-writer from California. He's best known for his character Twist on the American Nickelodeon show " The Fresh Beat Band".
Scarecrow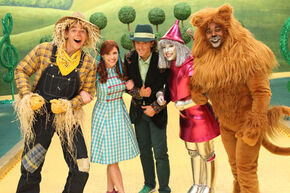 In a Fresh Beat Band special " The Wizard of Song ". Jon plays his character Twist the DJ and also The Scarecrow. In this story the scarecrow wants a brain to become a world-famous rapper. When Marina found him rapping in a corn field, she asked him to join her on her journey to see the wizard to get his brain. The Wizard makes him realize that he's already gotten a brain when he saved Marina from a spell put on her by the Bad Witch. He also thought of a way to trick the Bad Witch as part of a plan to protect Marina from her.
Ad blocker interference detected!
Wikia is a free-to-use site that makes money from advertising. We have a modified experience for viewers using ad blockers

Wikia is not accessible if you've made further modifications. Remove the custom ad blocker rule(s) and the page will load as expected.