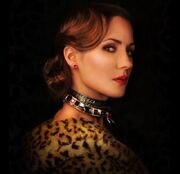 Jessica Sonneborn (born August 9th) is the actress portraying Ev Locast in The Witches of Oz.
Other Works
Jessica has also been featured in many other films. Her most notable being "A Lure: Teen Fight Club". She was also featured in the feature film "Spring Breakdown".
Ev Locast
Ev is one of the thirty heads of Princess Langwidere.
Ad blocker interference detected!
Wikia is a free-to-use site that makes money from advertising. We have a modified experience for viewers using ad blockers

Wikia is not accessible if you've made further modifications. Remove the custom ad blocker rule(s) and the page will load as expected.