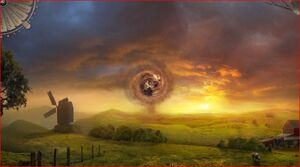 Infinite Oz is an online Flash interactive animation which allows users to explore the various settings for the Outer Zone. It was a promotional animation for the 2007 sci-fi channel miniseries Tin Man.
The player can move through a continuous shifting of settings, by zooming further and further in. It begins by zooming in on the cyclone, and through it the O.Z. can be seen, and zooming further one becomes immersed in that environment and can see a hint of another, to be zoomed in on, and so on.
Once the player has been through all the environments in Infinite Oz, continuing to zoom in returns the player to Kansas.
External Links