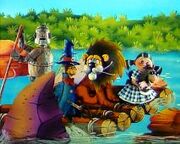 In the Magical Land of Oz
(Polish: W krainie czarnoksiężnika Oza) is an animated stop-motion Polish television series based on
The Wonderful Wizard of Oz
and
The Marvelous Land of Oz
 with elements from
Dorothy and the Wizard in Oz
. It has aired only in Poland and was broadcast for the first time in 1983-1989. It consists of 13 episodes or 'sections'.
Episode List
(rough English translations)
1. Journey to the Emerald Garden
2. Field of Blossoming Poppies
3. The Great Oz
4. The Gold Cap
5. The Secret of the Great Oz
6. The Silver Shoes
7. What a Meeting!
8. The Siege
9. The Unusual Flight
10. Land of the Seven Suns
11. (Surrender China City? translation error)
12. Who is Telling the Truth?
13. The Mystery of the Purple Rose
Voice Cast:
External Links:
Ad blocker interference detected!
Wikia is a free-to-use site that makes money from advertising. We have a modified experience for viewers using ad blockers

Wikia is not accessible if you've made further modifications. Remove the custom ad blocker rule(s) and the page will load as expected.