Ad blocker interference detected!
Wikia is a free-to-use site that makes money from advertising. We have a modified experience for viewers using ad blockers

Wikia is not accessible if you've made further modifications. Remove the custom ad blocker rule(s) and the page will load as expected.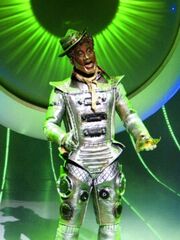 " Ik Heb Geen Doel" is the dutch version of "What Would I Do If I Could Feel" which translates " I Do Not Feel "
Ik Heb Geen Doel lyrics
Niets, is zo mooi
Als een zigeuner kind
Of een eenzame hond
die zijn baasje niet vindt
dat is vreugt
dat is zwart
dat is een groot en bloedend hart
maar wat heb ik
(hij heeft geen doel)
Ik heb geen gevoel
Niets, is zo mooi
Als je dat je heel succes vol bent
maar ooh zo alleen
en nooit je vader gekent
emotie hier emotie daar
laat het gaar open dus luister maar
rechtvaarigheid kent rede niet
tis een vast een jankent lied
soms valt het mee
soms doet het pijn
maar je moet zacht en kwetsbaar zijn
een kloppent hart
en een lag en een traan
das een waardevol bestaan
maar wat heb ik
(niks hij heeft geen doel)
maar wat heb ik
(niks hij heeft geen doel)
maar wat heb ik
(niks hij heeft geen doel)
ik heb geen gevoel
(nee geen gevoel)
Ik heb geen gevoel
Ik heb geen gevoehoel