Ad blocker interference detected!
Wikia is a free-to-use site that makes money from advertising. We have a modified experience for viewers using ad blockers

Wikia is not accessible if you've made further modifications. Remove the custom ad blocker rule(s) and the page will load as expected.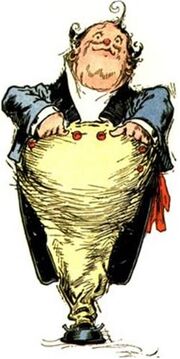 Hip Hopper is the chamption wrester of the Hoppers.
Description
Like all the Hoppers, Hip Hopper has one leg set just below the middle of his round, fat body. It is a stout leg, with a broad, flat foot.
History
When Dorothy Gale and a party from the Emerald City arrived in Hopper Country in search of a dark well, Hip Hopper was caught napping and was captured by Toto, though Dorothy soon released him. (The Patchwork Girl of Oz)