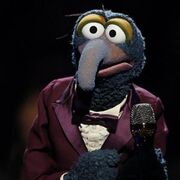 Gonzo the Great
is one of the major characters from the television series
The Muppet Show
. He is an odd-looking, unidentifiable alien creature with blue fur and a long crooked nose. He takes pride in his uniqueness and enjoys everything that he does, no matter how painful or ill-advised it may be.
Gonzo's best-known connection with the Oz franchise was his role as the Tin Thing in the 2005 TV movie The Muppets' Wizard of Oz.
However, the movie was actually not the first time Gonzo portrayed the Tin Man. The baby version of him from Muppet Babies portrayed the same character in the episode "By the Book" (where he was called the Tin Weirdo) and the storybook Muppet Babies: Classic Children's Tales.
External Links
Ad blocker interference detected!
Wikia is a free-to-use site that makes money from advertising. We have a modified experience for viewers using ad blockers

Wikia is not accessible if you've made further modifications. Remove the custom ad blocker rule(s) and the page will load as expected.