Ad blocker interference detected!
Wikia is a free-to-use site that makes money from advertising. We have a modified experience for viewers using ad blockers

Wikia is not accessible if you've made further modifications. Remove the custom ad blocker rule(s) and the page will load as expected.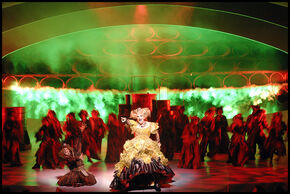 "
Geen Gezeik
" is the dutch version of "
Don't Nobody Bring Me No Bad News
".
It is sung by the Wicked Witch of The West, Sadista.
Geen Gezeik lyrics
Zo om een uur of twee als de wekker gaat
Lig ik nog een poos voor lijk
Val me dan niet lastig met gezeik
Ik heb sowieso een pesthumeur
Zet de klok erop gelijk
Dus nergens wil ik nooit niet geen gezeik
Ik vertel het maar even
Het gaat zo weer in praktijk
Je valt me nooit niet lastig met gezeik
In 't bedenken van je straf ben ik o zo vindingrijk
Dus nergens wil ik nooit niet geen gezeik
Geen gezeik
Geen gezeik
Val me nooit niet lastig met gezeik
Want de gifdrank en de toverstaf staan binnen handbereik
Dus nergens wil ik nooit niet geen gezeik
Dus hou je adem in
Als ik naar je kijk
En val me nooit niet lastig met gezeik
O ik zeg maar zo geen risico
Want ik sleep je door het slijk
Nergens wil ik nooit niet geen gezeik
Ik bevries je tot het bot
Maak je met de grond gelijk
Dus val me nooit niet lastig met gezeik
Kom met leuk gezellig nieuws
Ja dat zet zoden aan de dijk
Nergens wil ik nooit niet geen gezeik
Geen gezeik
Geen gezeik
Val me nooit niet lastig met gezeik
Want de zeurkous en de zemenla ben ik liever kwijt dan rijk
Nergens wil ik nooit niet geen gezeik
Geen gezeik
Geen gezeik
Geen gezeur en zeker geen gezeik
Je bent gewaarschuwd lieve schat want de strijd is niet gelijk
Nergens wil ik nooit niet nergens wil ik nooit niet nergens wil ik nooit niet
Nee nee nee nou nou nou nou geen gezeik gezeik