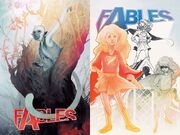 Fables is a comic book franchise based on various fairy tale characters, which includes many elements of Oz.
List of Oz Characters
Main series
Spin-off series
Dorothy Gale and her friends who were driven out of Oz because of a powerful evil called the Adversary. (Jack of Fables and Cinderella: Fables Are Forever)
See Also
Ad blocker interference detected!
Wikia is a free-to-use site that makes money from advertising. We have a modified experience for viewers using ad blockers

Wikia is not accessible if you've made further modifications. Remove the custom ad blocker rule(s) and the page will load as expected.