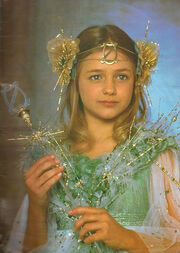 Emma Ridley
(born 10 May 1972, Hampstead, London) is the actress who portrayed Princess
Ozma
in
Disney's
1985
Return to Oz
.
Her elder sister is the English television actress Joanne Ridley. Emma led a somewhat tempestuous private life, married at the age of fifteen, to a 30 year old man. She moved to the United States in 1992, and eventually settled down on a California ranch with her third husband. She has not pursued her acting career.
Ad blocker interference detected!
Wikia is a free-to-use site that makes money from advertising. We have a modified experience for viewers using ad blockers

Wikia is not accessible if you've made further modifications. Remove the custom ad blocker rule(s) and the page will load as expected.