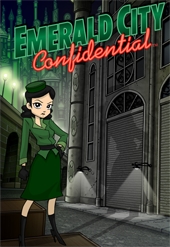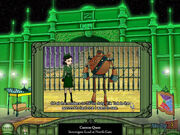 Emerald City Confidential is a 2009 computer adventure game conceived by Dave Gilbert, developed by Wadjet Eye Games and published through PlayFirst. It follows the protagonist, Emerald City's only private eye Petra, as she is approached by a strange woman named Dee Gale. Dee's fiancé, Anzel, is missing,and she is willing to pay Petra above the going rate in order to find him. Lacking any other prospects, Petra agrees. What starts off as a simple missing person case soon takes Petra deep into the seedy underbelly of the Emerald City's criminal underground and beyond. She encounters many characters from the Oz canon, such as the Scarecrow, Tik-Tok, and Jack Pumpkinhead, and some new characters, learns several magic spells, and uncovers the answer to a dark secret that has haunted Petra all her life.[1]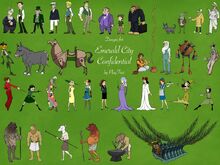 Emerald City Confidential is a third-person, mouse-driven, adventure game in which the player must solve various puzzles and follow certain procedures in order for the linear storyline to proceed. As a pure graphical adventure game, Emerald City Confidential follows certain guidelines: it is impossible to die or to get stuck at any moment in the game, which allows the user to fully immerse him/herself in the Emerald City Confidential universe without the fear of making a mistake or the constant need of saving the game. With this in mind, there are no save game functions, but the player's position is automatically bookmarked and restored when the game is restarted.
The game is set in the magical Land of Oz, as written by L. Frank Baum, but put through the gritty filter of 1940s film noir. Harsh city streets, grey rainy skies, femmes fatales, tough guys, trenchcoats, fedoras and plot twists. It's Oz, seen through the eyes of Raymond Chandler.[1]
Response
Most reviews of the game have been positive,[2][3] with particular praise for the story,[4] even where the rest of the review has been less glowing.[5] It has also topped PlayFirst's own chart for weeks after its release.[6]
References
↑ 1.0 1.1 Emerald City Confidential: Story, Wadjet Eye Games, Retrieved on March 4, 2009.
↑ Review: Emerald City Confidential, Adventure Gamers, Retrieved on March 4, 2009.
↑ The Dame Wore Ruby Slippers, Yesterday's Salad, Retrieved on March 4, 2009.
↑ Emerald City Confidential: Dames, Double Crosses & Clark Gable Disrespecting Women, Immoral Gamers, Retrieved on March 4, 2009.
↑ Destructoid Review: Emerald City Confidential, Destructoid, Retrieved on March 4, 2009.
↑ PlayFirst Top 100 Games, Playfirst, Retrieved on March 4, 2009.
External links
Ad blocker interference detected!
Wikia is a free-to-use site that makes money from advertising. We have a modified experience for viewers using ad blockers

Wikia is not accessible if you've made further modifications. Remove the custom ad blocker rule(s) and the page will load as expected.