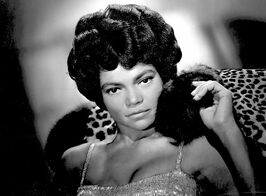 'Eartha Mae Keith' (January 17, 1927 – December 25, 2008) was an American singer, actress, dancer and cabaret star. She's best known for her role of Catwoman in the 60's show Batman starring Adam West. Kitt was born on a cotton plantation in North, a small town in Orangeburg County, South Carolina. Her career peaked in the 50s when she portrayed a s Helen of Troy in " Dr. Faustus" the role was given to her by Orson Welles. Late in the 60s, Kitt portrayed the role of Catwoman in the television show after Julie Newmar left the role. This was considered as one of her most reconized and most famous roles.Eartha Kitt portrayed The Wicked Witch of the West in the North American national touring of The Wizard of Oz in 1998. Kitt was a replacement for Rosanne Barr who played the witch in 1997. Kitt died from colon cancer on Christmas Day 2008, at her home inWeston, Connecticut.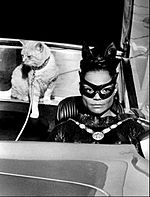 .
Ad blocker interference detected!
Wikia is a free-to-use site that makes money from advertising. We have a modified experience for viewers using ad blockers

Wikia is not accessible if you've made further modifications. Remove the custom ad blocker rule(s) and the page will load as expected.