Dorothy and the Wizard of Oz is a web series created by Warner Bros. studios as a web exclusive to the Boomerang channel's video on demand service in the US but has premiered elsewhere internationally on the television channel starting with Austraila and New Zealand on June 26th, 2017. It's plot would appear to take place sometime after The Wonderful Wizard of Oz and around the time of Ozma of Oz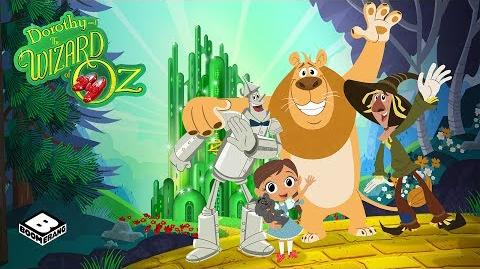 Since Warner Brothers owns the copyright to the 1939 film, this series acts as a sequel to it with the inclusion of the Ruby Slippers.
The series premiered in Austraila on June 26th 2017 as the first section of the first episode was released digitally in the US for the Boomerang app. That section is currently free and does not require a subscription. This first episode delves into the story without much pretense except that Dorothy went back to Oz and became a princess. A further episode might show her meeting Ozma for the first time and how Ozma ascended the throne (The Marvelous Land of Oz).
For non-subcribers, the series has also been released to DVD.
Description
(from Animation World Network )

The series is based on the classic L. Frank Baum book series, and is set soon after Dorothy and her friends have defeated the Wicked Witch of the West. Following the original story, Queen Ozma has appointed Dorothy the Princess of Emerald City and, practically born for the role, Dorothy tackles her royal duties with enthusiasm, bravery and farm girl feistiness.
But it's also a whole lot of responsibility, because Oz is pretty chaotic. There are Witches, Wizards, Munchkins, Flying Monkeys and a whole menagerie of mystical creatures. More often than not, magic falls into the wrong hands and that's where Dorothy comes in. As Princess of Emerald City, Dorothy feels responsible to rein in the chaos. She loves to track down whichever magical person, place or thing is causing mischief in Oz and put a stop to it.
Characters
Returning:
New:
Possible but unconfirmed:
The following might appear in the series with the show being based on content from the original book series and the 1939 film, but they have yet to be announced:
Episodes
Season One
Season Two
Trivia