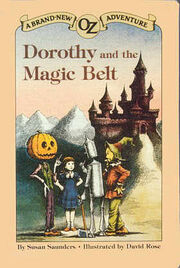 Dorothy and the Magic Belt is an Oz book for younger readers, written by Susan Saunders and illustrated by David Rose.
The son of Dr. Nikidik resents the fact that his father can no longer practice magic, under Princess Ozma's prohibition. He decides to vent his frustration by stealing the Magic Belt. To do so, he transforms Dorothy's companions into babies.
Ad blocker interference detected!
Wikia is a free-to-use site that makes money from advertising. We have a modified experience for viewers using ad blockers

Wikia is not accessible if you've made further modifications. Remove the custom ad blocker rule(s) and the page will load as expected.