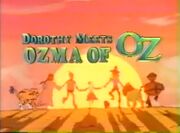 Dorothy Meets Ozma of Oz is a direct to video 28 minute cartoon adaptation of Ozma of Oz released on November 18th, 1987.
Summary
When Aunt Em and Uncle Henry take a ship to visit the former's cousin in Australia, Dorothy gets washed overboard while trying to save Toto who had run onto the deck during a storm. She clings to a chicken coop, which was also washed overboard.
Cast
Michael Gross - Himself/Host
Janice Kawaye - Dorothy Gale (credited as Hiromi Kawaye)
Matthew Stone - Scarecrow
Sandra J. Butcher
Nancy Chance
Jay David
Fredie Smootie
Trivia
Gallery
Ad blocker interference detected!
Wikia is a free-to-use site that makes money from advertising. We have a modified experience for viewers using ad blockers

Wikia is not accessible if you've made further modifications. Remove the custom ad blocker rule(s) and the page will load as expected.