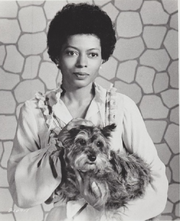 Diana Ross (March 26, 1944- ) is a singer and actress who played Dorothy in the 1978 movie version of The Wiz. Ross first rose to fame as a founding member and lead singer of the Motown group TheSupremes during the 60s. After leaving the group in 1970, Diana began her solo career that has included successful ventures into film and Broadway. 
In The Wiz Dorothy is a kindergarten teacher whos in her 20's whos very shy and doesnt have any friends, all except for her dog Toto. She's living with her aunt and uncle because she's not ready to live alone.But after leaving Oz she has now changed.
Ross was soon to claimed to have discovered The Jackson 5 which she didn't. But Ross would introduce the group to several public events including The Hollywood Palace though she added in "Michael Jackson and the Jackson 5", which the Jacksons' father, Joseph Jackson and Berry Gordy didn't appreciate.Diana continues to tour quite rigorously recently completing a 2013 South American tour before embarking on a multi-city U.S. late summer tour launching August 2 in Los Angeles through September 13 in Dallas. Several dates are nearing sellouts.