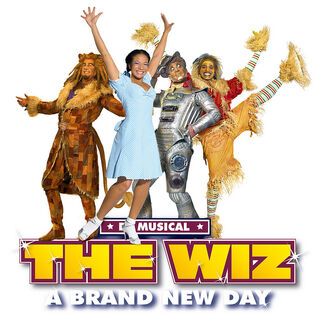 De musical The Wiz was the dutch musical revival of The Wiz. It opened in Utrecht, Holland in September 2006. Most of the character names were changed either to new names or dutch words like Vogelverschrikker (Scarecrow), Bilkkeman (Tinman), Laffe Leeuw (Lion), Sadista (Evillene, The Wicked Witch of the West), and Acadabra (Addapearle, The Good Witch of the North).
Cast
Gallery
Videos
02:49

Danny Yanga - Musical The Wiz - Ga Nou Maar Gewoon

Song List
Ouverrture
Vergeet het niet
'Tis de Wiz
Kon ik maar naar huis
Jij bent koning
Wou jij zien wie dan wel de Wiz is
Wie denk jij dat je bent
De groeten
Geloof in jezelf
Thuis
Ad blocker interference detected!
Wikia is a free-to-use site that makes money from advertising. We have a modified experience for viewers using ad blockers

Wikia is not accessible if you've made further modifications. Remove the custom ad blocker rule(s) and the page will load as expected.