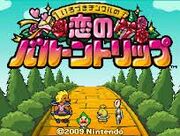 Color-Changing Tingle's Balloon Trip of Love is a Japanese-only video game for the Nintendo DS. It's the sequel to the game "Freshly-Picked Tingle's Rosy Rupeeland", which is a spin-off of the popular Legend of Zelda series. The game features Tingle visiting a version of the Land of Oz, and teaming up with a Tin Woman, a Lion, and a Scarecrow.
Ad blocker interference detected!
Wikia is a free-to-use site that makes money from advertising. We have a modified experience for viewers using ad blockers

Wikia is not accessible if you've made further modifications. Remove the custom ad blocker rule(s) and the page will load as expected.