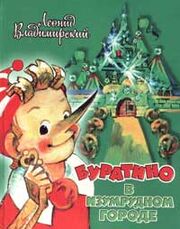 Buratino in the Emerald City is a "Magic Land" novel written and illustrated by Leonid Vladimirsky, the artist who illustrated Alexander Volkov's Oz-derived Russian works. The book was published in 1996.
Early in his career as a book illustrator, Vladimirsky drew pictures for an edition of Alexei Tolstoy's The Little Golden Key, which is an adaptation of Carlo Collodi's Pinnochio in which the puppet-boy is renamed "Buratino." Decades later, when Vladimirsky came to compose a book in the Volkov tradition, he brought Tolstoy's Buratino to Volkov's Emerald City. The result is quadruply derivative: from Collodi via Tolstoy, and from Baum via Volkov.
In keeping with is source material, Vladimirsky employs puppets as characters. For a comparable incursion of puppets into Oz, consider Eloise Jarvis McGraw's The Rundelstone of Oz. For real-life Oz puppetry, see: Jean Gros.
Ad blocker interference detected!
Wikia is a free-to-use site that makes money from advertising. We have a modified experience for viewers using ad blockers

Wikia is not accessible if you've made further modifications. Remove the custom ad blocker rule(s) and the page will load as expected.