Best of the Muppets featuring The Muppets' Wizard of Oz
Talk

0
Share
Ad blocker interference detected!
Wikia is a free-to-use site that makes money from advertising. We have a modified experience for viewers using ad blockers

Wikia is not accessible if you've made further modifications. Remove the custom ad blocker rule(s) and the page will load as expected.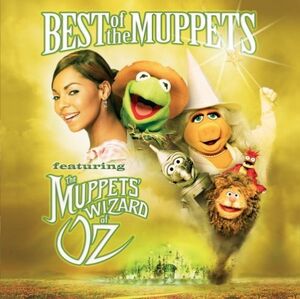 Best of the Muppets, was released in May 2005 as a soundtrack to The Muppets' Wizard of Oz. In addition to songs from the movie, it includes 9 songs from The Muppet Show.
Track Listings
"Kansas" - Ashanti
"When I'm With You" - Ashanti, Kermit the Frog, The Great Gonzo, Fozzie Bear & Pepe the King Prawn
"The Witch is In the House" - Miss Piggy with Dr. Teeth and The Electric Mayhem
"Calling All Munchkins" - The Munchkins Tap-your-knuckle Choir
"Good Life" - Ashanti
"Nap Time" - Dr. Teeth and The Electric Mayhem
"The Muppet Show Theme" - featuring the Muppets
"Mahna Mahna" - Mahna Mahna and the two Snowths
"Bein' Green" - Kermit the Frog
"The Rainbow Connection" - Kermit the Frog
"Lady of Spain" - Marvin Suggs and his Muppaphone
"Halfway Down The Stairs" - Kermit the Frog & Robin
"What Now My Love?" - Miss Piggy
"Tenderly" - Dr. Teeth and The Electric Mayhem
"Happy Feet" - Kermit the Frog