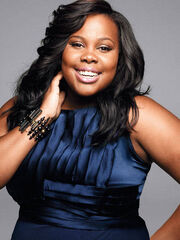 Amber Patrice Riley
 ( February 15, 1986) is an American actress, singer-songwriter, and philanthropist, best known for her portrayal of Mercedes Jones on the  FOX television series Glee.
Biography
Born in Los Angeles, California, the daughter of Tiny (née Hightower) and Elwin Riley. She also has two older sisters, Toyia and Ashley, Riley auditioned for American Idol at age seventeen but was turned down.
In 2008 she was cast as Mercedes Jones on the television show Glee.
For the rolw she won Screen Actors Guide Awards including an NAACP Image Award and a Teen Choice Award. 

 On the 17th season of 

Dancing With the Stars 

Riley was the first African-American woman to win.
She portrayed the role of Addapearle in the NBC program The Wiz Live! on December 3, 2015.
Ad blocker interference detected!
Wikia is a free-to-use site that makes money from advertising. We have a modified experience for viewers using ad blockers

Wikia is not accessible if you've made further modifications. Remove the custom ad blocker rule(s) and the page will load as expected.