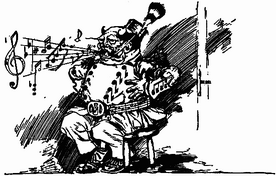 Allegro da Capo
is a man who lives just outside the
Land of Oz
in the unknown country where
Dunkiton
.
Foxville
, the
Valley of the Musicker
, and the Territory of the
Scoodlers
were located. He is also known as the
Musicker
.
Description
The Musicker is a little fat man with a round face and faded blue eyes. He wears a red, braided jacket, a blue waistcoat, and white trousers with gold stripes down the sides. His head is bald and he wears a little, round, red cap held in place by an elastic band under his chin. He wears white cotton gloves and leans on a stout, gold-headed cane.
His lungs are full of reeds so that his breathing makes constant music, sounding like an incessant harmonica. (The Road to Oz)
Ad blocker interference detected!
Wikia is a free-to-use site that makes money from advertising. We have a modified experience for viewers using ad blockers

Wikia is not accessible if you've made further modifications. Remove the custom ad blocker rule(s) and the page will load as expected.